The One qPCR enzyme mix includes reverse transcriptase, recombinant ribonuclease inhibitor in an optimized formulation, it also includes Bioingentech® Taq DNA polymerase and all reagents for an optimized RT-qPCR.
The SARS CoV-2 primer and probe mix (E & RdRp gene) provided in the kit hybridizes to specific and conserved areas of the E gene that generates an envelope protein that plays a central role in the morphogenesis and assembly of the virus. , and the RdRp gene that generates an enzyme vital to the life cycle of the virus: RNA-dependent RNA polymerase. These genes can be detected through your platform in real time using the 5 'nuclease PCR detection method. During PCR amplification, the forward and reverse primers hybridize to the SARS CoV-2 target generated by cDNA. Fluorogenic probes are included in the same reaction mix. The E gene is amplified and detected in the Cy5 channel. The RdRp gene is amplified and detected in the FAM channel.
An additional primer/probe set to detect the human RNase P gene (RP) as internal control to monitor PCR inhibition is also included in the panel labeled with a 5-reporter and a 3-quencher. During PCR amplification, the probe is cleaved and the reporter dye and quencher are separated. As a result, a fluorescence increase can be detected on a range of real time PCR platforms through HEX/VIC channel.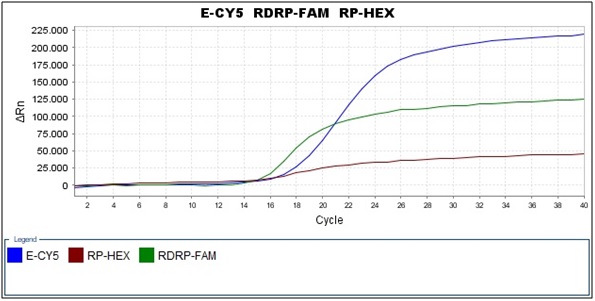 Figure 1: Clinical tests of the OneStep qPCR-realtime™ SARS CoV-2 E-CY5 and RdRp-FAM genes detection Kit were performed with more than 5000 samples from asymptomatic and symptomatic patients.
Total RNA was isolated followed by a One Step RT-PCR for the detection of the SARS CoV-2 E gene, SARS CoV-2 RdRp gene and the human RNase P gene.